Marketers love buzzwords, and the new one on the street is Facebook Dynamics Ads for automotive dealers. At a high level, this lets dealerships advertise on Facebook to reach relevant audiences with personalized ads. But in order to include their inventory in the ads, dealerships work with an agency to get their inventory catalog integrated with the platform. From there, Facebook's algorithm shows the ad of the specific vehicle to in-market auto-shoppers who are interested in that or similar vehicles. This type of advertising works really well in converting auto-shoppers who are closer to the purchase stage in the customer journey.
If you're nodding your head to the above, there's a good chance you've also heard about Lead ads on Facebook. Lead ads take advantage of the native experience of the form fill on Facebook. It sends people to a form that may be pre-populated with their relevant contact information, such as their name, phone number, and email address. It's easy for them to confirm what information they want to share with you and lets you quickly follow up with leads. The lack of friction has been a boon for advertisers and the conversion rates of Facebook lead forms are proving to be greater than other traditional methods.
If you have tried out both formats of ads on Facebook, and are looking to go to the next level, then the strategy is simple — combine both products. 1.Facebook Dynamic Ads and 2. Lead forms can work together to enhance performance for each individual campaign and in turn, boost overall performance.
When one of our longtime clients wanted to build upon their existing Facebook campaigns and shift their focus to lower-funnel activity, we suggested this strategy. The client is a multiple rooftop auto group on the East Coast with six dealerships. They sell new and used Chevrolet, Honda, Kia, Subaru, and Toyota. After being live for only two months, the group saw an uptick of 36% in terms of conversions, and they captured 360 leads within the first 60 days of the campaign.
And what made it more successful was the integration of the campaigns into the CRM. Leads were sent to the dealers in real-time, allowing for the Sales Department to reach the prospective customers in a timely manner.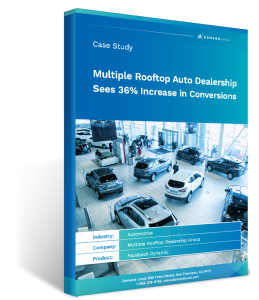 Are you interested in learning more about Facebook Dynamic with Leads? Check out this case study or just give us a call at 1-888-315-9759. You can also write to us at info@demandlocal.com
Demand Local provides turnkey, white-labeled digital advertising solutions. Get in touch with us and learn more about how you can maximize your profits by letting us do the heavy lifting, while you can spend your valuable time on closing new deals.